A wrapping machine, otherwise referred to as a shrink wrap machine, is a type of machine that is used to wrap flexible materials such as plastic or aluminium around individual products or group of products. Other terms used to describe this kind of packaging include flow-wrapping, overwrapping and horizontal form fill sealing.

One of the most popular wrapping types is shrink wrapping – Shrink wrapping is when heat is applied by various means such as using a shrink wrapping machine to a thermoplastic material such as shrink film that is loosely wrapped around a singular product or groups of products. The heat applied to this film causes the film to shrink which then tightly wraps around the products within the film.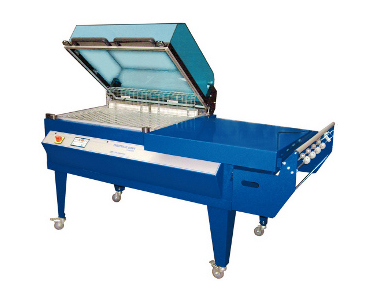 This kind of shrink wrapping is used as packaging within many different industries as it is incredibly high quality and able to provide wrapped products with protection. Some of the industries in which this wrapping method is used include the food and confectionary industries, used to wrap everything from drinks to sweets to vegetables. Almost anything can be shrink wrapped. Other items that are popularly shrink wrapped include but are not limited to DIY products, beauty products, CD's, and cigarettes. 
Some of the terms that are used within the wrapping industry include: seal bar, heat shrink. Shrink tunnel, heat seal, crimper, end fold, film reel, wed, thermostatic film, band, multipacking, stretch film, full wrap, shrink ratio, cut-off length, film width and yield. Therefore, if you want to become a shrink wrapping expert these are all terms that you need to research and understand.
Here are some of the benefits for you to consider:
Wrapping of this kind is an incredibly durable packaging method, with the plastic film that is generally used to wrap products being incredibly strong and hard to damage. Products wrapped in this way arrive at their final destinations in perfect condition.


Wrapping machines can provide products with protection, stopping what is on the inside from coming out and what is on the outside from coming in.


Wrapping is affordable compared to other packaging solutions. It can also reduce labour costs within companies as machines do most of the work and less people are needed. The machines are also easy to use and can be operated by most people once instructions have been read.